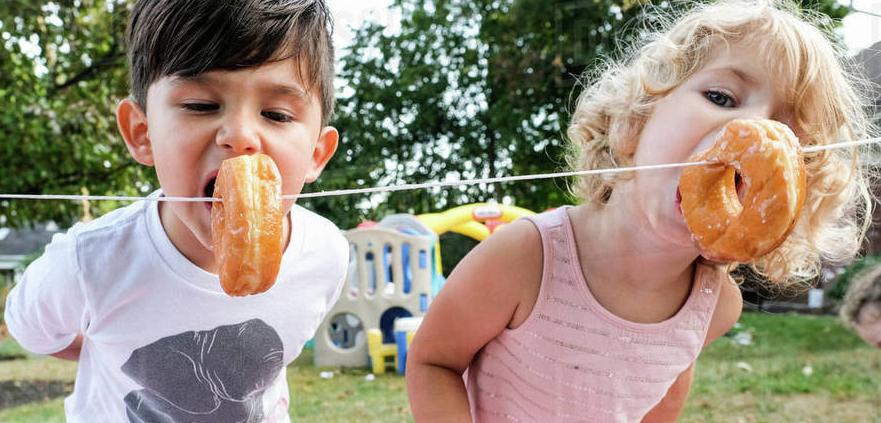 Family Fun – Just a Little Bit of Silliness!
Sometimes life gets so full of ACTIVITIES that there's no FUN in it! Yesterday you planned more family fun activities. (see post)
Laughter is a vital ingredient for the health of the individual and for a family. Laughter bonds you together and builds great memories. So let's have a little bit of silliness!
Today – Fun Food Games
Materials needed:
1. Choose a food that you have available and your family likes. Good examples:
– Watermelon
– Apples
– Donuts
– Spaghetti noodles
– Iced cake or muffin
2. Three or four simple but fun prizes.
Now choose how to present them:
– tied on a string to a stick or frame (good for donuts)
– place on a plate on a table or floor
– bobbing in water (good for apples)
– inside or outside!
The fun family challenge may get messy – but not necessarily – but the idea is to simply just have fun!
Rules:
– You can make up your own depending on what you are eating , but normally the only rule is to eat the food with your hands behind your back.
Have prizes for:
– Eating with the most flare!
– Eating with the least mess!
– Eating the fastest!
– For participation!!
(You many think of more so that each member receives a prize for their efforts)
Questions to ask:
1. What was the most enjoyable thing about this activity? Why?
2. Would you like to laugh more together as a family? If so – what ideas do you have?
3. How could we have done this activity better? What things could we have done?
Try different foods if the family are desperate to, or end on a positive note, with the family wanting 'A Bit More Silliness' tomorrow!
Check out earlier posts you may have missed:
https://www.facebook.com/excelmarriages/posts/3633873600017896
If you are enjoying these posts – please LIKE or FOLLOW us so you can see future posts. Also SHARE to help other families use their time during COVID 19!! Thank you.
https://excelmarriages.co.nz/wp-content/uploads/2020/04/snip-donuts-2.png
580
881
Cliff & Jenni
https://excelmarriages.co.nz/wp-content/uploads/2016/04/logo186c.jpg
Cliff & Jenni
2020-04-09 14:07:58
2020-04-09 14:07:58
Family Fun - Day 14