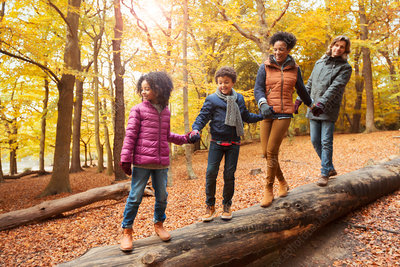 Family Challenge: Walk the Plank
All families have strengths and resources that you may not realise, or are untapped – strengths we want to help you discover and use!
International Strengths-Based Family Research has shown that there are 6 fundamental characteristics of strong families.
No. 1: Strong Families Demonstrate appreciation and affection for each other.
No. 2: Strong Families have a commitment to one another. They can trust each other and can depend on one another.
Todays Family Fun: Walk the Plank
Equipment Needed: One plank of wood about 2 metres in length, and about 100mm wide. (You can substitute with material or something similar to represent a plank of wood).
Everyone of the family is to stand on the length of wood – simple! The family needs to re-arrange themselves while still staying on the wood (and not touching the ground) to achieve the following order:
1. Alphabetical order;
2. Birthday dates (Jan-Dec);
3. Heights – from shortest to tallest;
4. Length of hair!
Only 1 Rule:
No stepping off the plank!
Object of this Challenge: To depend on others as you work together as a family. There are no right and wrong ways, as individual family groups works out different ways to achieve a goal. This will take trust and commitment and creativity to achieve! Have fun! Stick together and see what you can work out!
Questions to ask yourselves at the end:
– What was enjoyable about that challenge?
– Was it easy to work together?
– What was difficult about this challenge?
– How could we have done this challenge differently next time?
– What shall we do together to celebrate?
Check out earlier posts if you have missed out:
https://www.facebook.com/excelmarriages/posts/3611311745607415
If you are enjoying these posts – please LIKE or FOLLOW us so you can see future posts. Also SHARE to help other families use their time during COVID 19!! Thank you
https://excelmarriages.co.nz/wp-content/uploads/2020/04/family.jpeg
267
400
Cliff & Jenni
https://excelmarriages.co.nz/wp-content/uploads/2016/04/logo186c.jpg
Cliff & Jenni
2020-04-09 14:11:55
2020-04-09 14:11:55
Family Fun - Day 9